Herbal Hand Sanitizer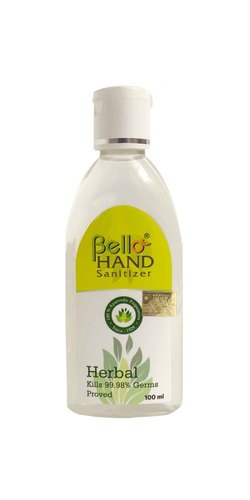 Herbal Hand Sanitizer
Price And Quantity
55.00 - 10000.00 INR

55 INR
Product Description
Bello Herbal Hand Sanitizer
Herbal Disinfect
No alcohol & No over drying.
100% Herbal preparation.
No solvents are used for herbal extraction.
Herbs that are in Bello Herbal Hand Sanitizer are best anti fungal and anti bacterial.
Bello Herbal Hand sanitizer acts as a soothing and moisturizer protects hands.
Turmeric is an excellent natural antibiotic, while at the same time it strengthens body and helps improves intestinal flora. As such it is a good antibacterial It not only purifies the blood, but also warm it and stimulates formation of new blood tissues.
Tulasi is well known traditional herbs for all types of skin allergies. Tulasi contains Ujinal, Carwakral, Cariofilin act as disinfectant and anti-septic.
Aloe vera in Bello Herbal Hand Sanitizer helpful for treating various skin problems such as prevent itching, heal wounds and stops bleeding from minor cuts. Also helps to cure insect bite blisters and any type of skin allergies.
As per Ayurveda Neem is one of the most powerful blood purifiers and detoxifiers. Neem is often used to maintain healthy skin. Scientific studies indicate that the Neem boosts the immune system by energizing lymphocytes cells to respond to infection and other challenges to the body's immunity.
Vacha contains Asaryl aldehyde, Acorin and Acoretine which are antiseptic. It is a good purifier and clears the subtle channels of toxins and obstructions.
Each 10 ml of Gel is prepared from 500 mg each of Aloe barbadensis (Kumari), Curcuma longa (Haridra), Acorous calamus (Vacha), Azadirachta indica (Nimba) and Ocimum sanctum (Tulasi) along with Glycerin 2.5% w/w in perfumed coloured Gel base.
How to use: Apply on palm spread and rub over back of hands and finger tips until dry. Use whenever required.
FOR EXTERNAL USE ONLY
Contact Us
6-80/2, Canara Nagar, Peerzadiguda, Hyderabad, Telangana, 500039, India
Phone :+918035063232